We strive to maintain a safe, efficient, customer-friendly business.  Our commitment to improving the environment and supporting local communities is what we are about.
Columbia Sanitary provides great customer service while pumping septic tanks, grease traps, and waste treatment plants and provides products to improve the environment and public health in the greater Denver & surrounding mountain communities
Customer Service is our #1 priority. When you make an appointment, we will be there or we will communicate what happened. Important things like that are why the business keeps getting bigger.
Referrals make up most of our growth. Every year, thanks to our customers, our business grows about 10-11%. Thank you so much for your referrals to others!
History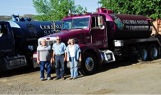 The business was started in 1959, by Harvey Seipp (Pictured on the left). The current owners purchased the business from the Seipp Family in 1998.  For over twenty years we have been pumping septic tanks and repairing and maintaining advanced septic systems for our customers.
Community Involvement
We are involved in and support the communities we work in.  Our associations are:
Coal Creek Community Improvement Association, CCCIA
Clear Creek:  Freedom Run 5 K, Evergreen, benefiting Mount Evans Hospice and Home Health Care
Black Hawk: High Country Auxiliary, Inc
Lookout Mountain:  Foothill Fire and Rescue Auxiliary
Clear Creek-Gilpin Animal Shelter
Contact Us Today!
We are licensed, certified and insured. Choose us for your septic system needs. Contact us today.
Find out more about our Services and the Areas Where We Serve.