Summer and Memorial Day Weekend are approaching fast!
Chances are you are planning on either having or attending a backyard party this summer.  If you are planning a backyard party you do not want guests going in and out of your house tracking in dirt, or even worse, going in the bushes.
In order to keep guests happy and your party sanitary, Our event portable toilets can suite most any needs small or large!
Memorial Day is a time for reflection and to honor the fallen heroes that fought for our country, but it has also become known as the weekend that kicks off summer.  Friends and families get together to attend Memorial Day Parades, go to the beach, attend concerts, gather at parks, and very often throw a Memorial Day barbecue at home.
Its a great time to start thinking about and planning your Memorial Day party.  
How many guests?
Co-workers, friends and family?
Families with kids?
Types of food and drinks to serve?
Yard games, events and activities for kids?
Will guests be staying at your home from out of town?
It's important to keep in mind your restroom facilities during Memorial Day Weekend.  Another reason people rent event portable toilets for Memorial Day parties is to give the "guys" a place to go and the ladies a different restroom option.  You could order one standard Porta Potty and one portable flushing toilet for guests that appreciate the comfort of a flushing toilet?  Your guests will find a restroom outside more convenient than going into your house!
We also Offer self-contained sinks! They come in three sizes, 20,25, & 45 gallon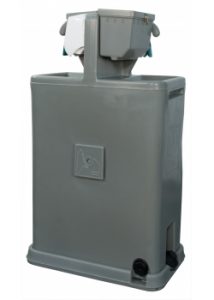 We do events just about anywhere!
Below is a usage chart to help you determine how many portable toilets are needed for your backyard party!
We are also running a Summer Special Where we have a bundle Package available! Need something bigger? Portable Restroom trailer for rent!!
Call 303-526-5370 or Email Kent@copotties.com  For a Free Quote today & help setting up you Party!